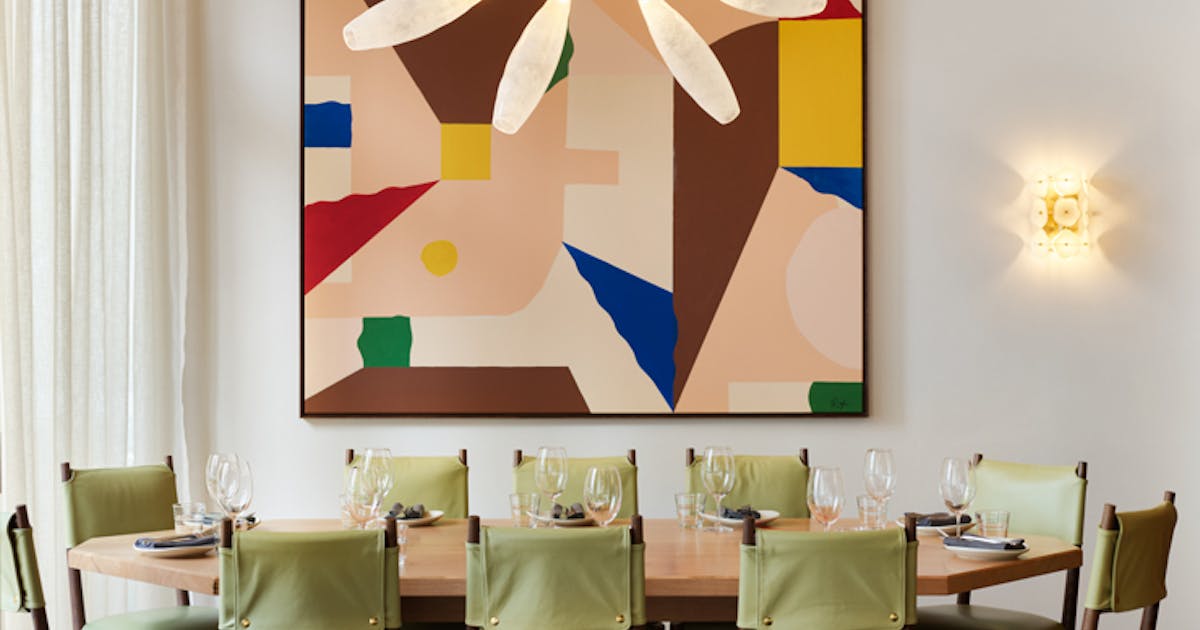 There's nothing better to celebrate the weekend or cure your Sunday blues than with a long, quiet lunch with your friends and, luckily for us, Sydney knows how to do a long lunch. This list includes a little bit of everything, from harborside rooftops, chic beachfront restaurants with all the ocean views, a revamped poolside spot and some iconic Sydney spots.
So what are you waiting for? Here are all the best places for a long lunch in Sydney.
Daisy
Dual bay
Undeniably, anyone who's been to Neil Perry's Margaret loves it. Named after Perry's mother, the restaurant signals a new era for the celebrated Sydney chef, flexing his unparalleled talent with Australian produce in a relaxed yet refined setting. Start with Sydney Rock Oysters topped with Dessert Lime Salsa and Flinders Island Scallop Crudo, before heading to the wood-fired grill with a plate of miso-glazed Southern Corner Inlet Calamari . There's an impressive list of wood-grilled fish, a lamb tagine pie, and some truly impressive beef from CopperTree Farm. In short, Australian cuisine at its best.
Dining room and terrace of the Shell house
CBD
Shell House is a luxury adult playground in the heart of the city, with two epic bars, a dining room and a rooftop terrace. If you're here for lunch, Shell House Dining Room & Terrace is spotless. Celebrating the building's art deco heritage, the dining room features curved material booths, rattan chairs, rich wood paneling, an amber-hued ceiling, and beautifully tiled flooring. With floor-to-ceiling glass doors, the dining room opens onto the sandstone terrace, which offers views of the CBD to boot. As for the cuisine, expect refined dishes with Mediterranean accents that showcase quality local products.
Sydney Cafe
CBD
It's one of those spots in Sydney that everyone has to visit at least once. Lunch is available every day and yes it is a real treat. Perched on the top floor and terrace of the historic Customs House at Circular Quay, your lunch will offer sweeping views of the bridge, the Opera House, and glittering Sydney Harbour. Be sure to reserve a table on the balcony, settle in with a spritz or Espresso Martini, or treat yourself to a plate of extra-fresh rock oysters from Cafe Sydney. The menu is modern Australian polish and ticks off things like tuna tartare with smoked trout roe, ricotta gnocchi, braised beef cheek and roast pork belly.
Panorama of Sean
Bondi Beach
Sean's is one of those places that is just so typical of Sydney, if you're a local and haven't been there, it's almost considered a crime. Although it's a stone's throw from the glistening sands of Bondi Beach, don't expect glitz, glamor or anything pretentious. Award-winning chef Sean Moran favors fresh seasonal produce, most of which comes from his farm in the Blue Mountains. The menu changes regularly, but your best bet is to let Moran do the talking with his five-course Chef's Choice tasting menu with matching wines.
Mr Wong
CBD
With Chef Dan Hong at the helm and a new take on Cantonese-style cuisine, Mr. Wong has become an instant Sydney favorite and one of the shining stars of the Merivale universe of fine dining. The giant 240-seat restaurant serves over 80 dishes over two levels, so you'll be spoiled for choice with Hong's varied menu. Drop by for a lunchtime dim sum menu that won't break the bank or the crowd-favorite whole Chinese roast duck. Otherwise, look for local produce like Balmain's crispy fried insects and lobster or Chinese classics like Kung Pao chicken. Perfect for a long lunch.
Pilou
fresh water beach
Built in a beautiful sprawling cottage on Freshwater Beach, Pilu is an absolute must for anyone wanting to experience the best of Sydney cuisine with a side of fresh, sea air. Pilu has two chef's hats, a well-deserved culinary title. The menu is inspired by owner Giovanni Pilu's Italian house, Sardinia, but champions local produce. The hero of the menu has to be the crispy-skinned suckling pig for two with rosemary potatoes, but we also really like the refined desserts on offer.
RAFI
North Sydney
From the group behind Bopp & Tone, The Butler, SoCal and The Botanist, RAFI is a 300-person food and drink paradise tucked away in northern Sydney. With a sun terrace, cocktail bar, restaurant, private dining room, chef's table experience and a central greenhouse structure called The Abor, if you're in that corner of the country, RAFI is a great place to a long lunch. Hailing from Peru, Rafi's Executive Chef, Matias Cilloniz, has created a menu that draws inspiration from the coastal elements of our beautiful city and can be summed up in two words: 'fresh' and 'seasonal'. Sustainability is also on the mind here, and menu highlights include Glacier 51 toothfish with chickpea miso, fresh chickpeas and chili; raw south coast tuna with cucumber, avocado and fresh yuzu; and matured duck crowned with fresh plum leaves and mustard.
Woodcut
Barangaroo
When award-winning culinary couple Ross and Sunny Lusted (formerly The Bridge Room) opened their new restaurant Barangaroo in late 2020, expectations were high. Unsurprisingly, the husband and wife duo have delivered in spades with Woodcut, a restaurant that champions Australian produce and celebrates unique cooking techniques like steam, wood and charcoal. Along with incredible views of Darling Harbor and an incredible menu, you can expect the sensory experience of theater thanks to Woodcut, not one, but four open kitchens and unique service with food straight from cast iron pans or clay pots. Book your lunch for a sunny day and watch the world go by.
Icebergs dining room and bar
Bondy
Icebergs is currently closed for renovations but will reopen on Wednesday December 14, 2022. You can book here.
It's true that some beach-side restaurants with stunning ocean views tend to lean a little too much on their location. Icebergs is not one of them. As well as having a postcard-perfect view to watch the waves from one of the most iconic beaches in the world, Icebergs offers an impeccable Italian-inspired menu, a modern and elegant interior designed to match the ocean. turquoise, polished, cool service, and just the right amount of Bondi glamour. It's run by Maurice Terzini, who has taken Sydney by storm since opening Icebergs Dining Room and Bar in 2002.
Catalina
Pink Bay
With stunning views of sparkling Rose Bay, Catalina is one of Sydney's long-standing 'special occasion' spots. In fact, Catalina fits into a small class of Sydney restaurants that have truly stood the test of time, opening in 1994 and being a favorite of well-heeled locals and visiting celebrities (like Beyonce and Jay Z). The stark white minimalist interior is complemented by pages of champagne and wine to choose from and arguably some of the best Sydney Rock oysters in town. Other menu specialties include soy-cured king salmon and crispy-skinned saltwater barramundi. Coupled with that water view and top-notch service? Catalina is a Sydney staple.
Want to visit Catalina in the future? Buy a gift voucher here.
The cave
Surry Hills
We'd probably be remiss not to include this downtown staple. Since the opening of this cute garden wine bar, many locals have lost themselves here for a few hours of lunchtime feasting. As the name suggests, The Winery has an extensive wine list, which covers a fine selection of bubbles, whites, roses and reds. For dining, you have modern Australian-style sharing plates and snacks like porcini arancini, sausage rolls and smoked lamb meatballs. Larger plates include lamb shank and pinot pie and mussels cooked in a Riesling cream sauce and served with garlic bread. Look, it's boujee, but sometimes a pop-up prosecco fountain is just what you need.
by Bert
Newport
Bert's dining room is perhaps one of Sydney's finest. Designed by Akin Creative's Kelvin Ho alongside regular Merivale collaborator Amanda Talbot and Merivale boss Justin Hemmes, it's a total Gatsby the magnificent-era dream. Along with plush cabins, dim lighting and views of Pittwater, there are raw bars dressed in caviar, lobsters and oysters. The vibe is Mediterranean, with Jordan Toft of Merivale at the helm as executive chef and Sam Kane leading the kitchen as head chef. And if all this isn't enough to keep you there, dive into the list of 750 Bert's wines created by Master Sommelier Franck Moreau.
cute
Coogee
Speaking of chef Jordan Toft, mimi's is another must-have on your long lunch list. This stunning location was part of the highly anticipated reopening of the Coogee Pavillion Middle Level this year. Mimi's is all martini hues — olive green, bone-colored linens, warm lighting, and a huge open kitchen with wide marble benches stacked with oysters.
Toft is still doing their Mediterranean thing and it's very, very good. On the menu are BBQ-grilled black abalone skewers, puff pastry arlettes warmed with affinois, charred Murray cod with lemon thyme and coriander seeds, and pepper-grilled No. 9 wagyu iron bullhorn. Chablis is also the star of the wine list which has 600 wines, a drop which is quietly being felt in Australia at the moment.
The Collaroy
colroy
The Merivale family sure knows how to make a great long lunch. Yet another entry on our hotel group library list of places in Sydney, The Collaroy is a beachfront hotel split over two levels: the ground floor serves breakfast pizzas, healthy bowls for lunch and homemade dinners once the sun goes down. Meanwhile, upstairs, seafood aplenty, and you'll also have a choice of two bars. It's the perfect place to relax and get through a long lunch after a dip at the beach. For a vacation vibe and Tiki-inspired cocktails, drop by The Surf Deck.
North Bondi Fish
Bondy
A surefire combination of sea breeze, fresh seafood, alcoholic popsicles and an almost alarming selection of rosé will have you lunching again and again at North Bondi Fish. Plot ? You should be. Located on Bondi Beach, North Bondi Fish strikes the perfect balance between being completely relaxed and a bit chic. Their newly released summer menu features everything from fancy fish and chips to chili prawn spaghetti and a mango coconut sundae. So gather the team and come down for a leisurely lunch and a glass of rosé (or three).
Jonah
whale beach
A Sydney institution for a reason, Jonah's at beautiful Whale Beach will instantly give you those warm and fuzzy first days of vacation. With stunning views, you'd be wrong to stay for just an hour, so sit back and let them do the heavy lifting by ordering from the set menu of two, three or four dishes. Add the paired wine option, because you deserve it.
Now check out Sydney's best bottomless brunches.
Image credit: Steven Woodburn, Margaret, Shell House, Cafe Sydney, Sean's Panorama, Merivale, Steven Woodburn, Crown Sydney, Icebergs Dining Room and Bar, Catalina, Merivale, Rocket Weijers, Merivale, North Bondi Fish, Jonah's