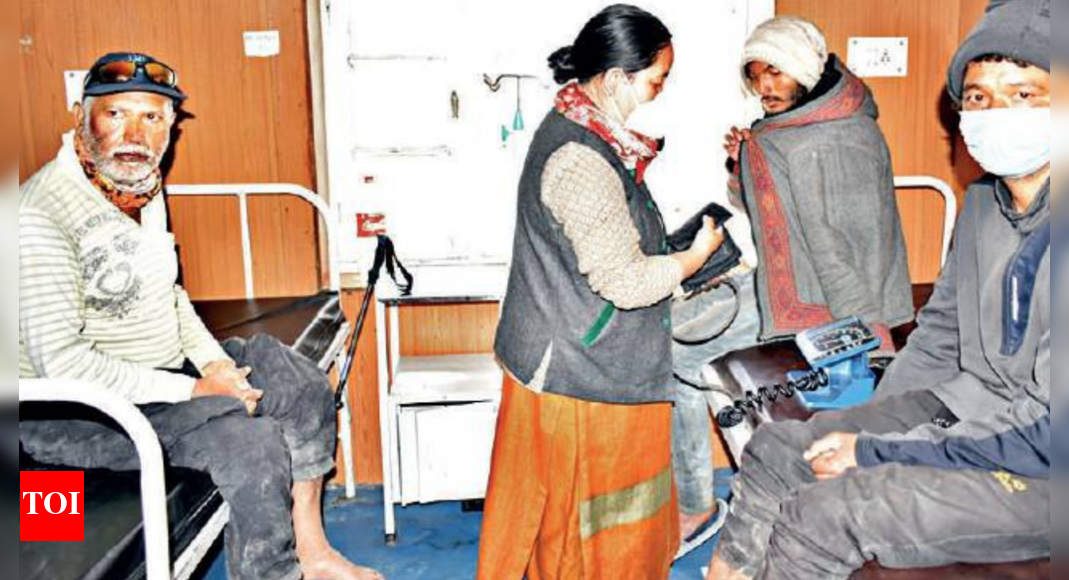 Hikers and porters received first aid in Kaza
MANALI: A search and rescue team made up of ITBP and Dogra Scouts jawans recovered the corpses of two West Bengal hikers who died near the Khamengar Glacier on the night of September 24. The bodies are expected to reach Kaza on Thursday morning.
Earlier, four hikers and seven porters from the same group had arrived in Kaza on Monday, where they informed authorities that 14 people were stranded at a high-altitude pass.
A rescue mission was launched by the district administration the next day, and most of the hikers and porters were rescued. But unfortunately, two of them had already succumbed to the cold and their bodies could not be returned by then. In addition to the casualties, two members of the team also suffered severe frostbite from the extreme cold.
Lahaul-Spiti deputy commissioner Neeraj Kumar said the forward rescue team reached the bodies on Wednesday morning. "Four porters who were left with the bodies are brought to base camp. They will also reach Kaza very soon. Kaza officials met the survivors at the hospital. Everyone is well. The authorities have been tasked with looking after them, "he said.
How the expedition went wrong
Six hikers with the help of 11 porters and a guide had embarked on an arduous but adventurous journey from Batal to Spiti to Manikaran to Kullu via known and unknown glaciers, peaks and valleys on September 15.
The plan was to first reach the Pin Valley and then cross the Manikaran Valley via the Pin Pass. Members of the Arete Mountaineering Foundation club in West Bengal, who had years of experience trekking in the Himalayas and had been planning this trek for years, spent seven nights in tents in difficult terrain before reaching the glacier. from Khamengar where their movement was hated by snowfall.
On September 24, as the team headed to Camp Eight, two members, Bhaskardev Mukhopadhya and Sandeep Kumar Thakurta, were left behind. When the two were unable to continue to the next camp, the Sherpa and a porter returned to them, pitched the tent, and helped them with sleeping bags to get through the night. On September 25, when three porters returned to them with a meal around 7 a.m., they were both found dead inside the tent.
The bearers informed the other members of the death. The team then decided that Abhijit and Jeevan would seek help from the Kaza administration. Both were staying with other team members near the snout of the Khamengar Glacier and took two days to reach Kaza. The administration then formed a 32-member rescue team with the help of the ITBP and Dogra Scout Jaws and Porters and immediately launched rescue operations.
FacebookTwitterLinkedinE-mail