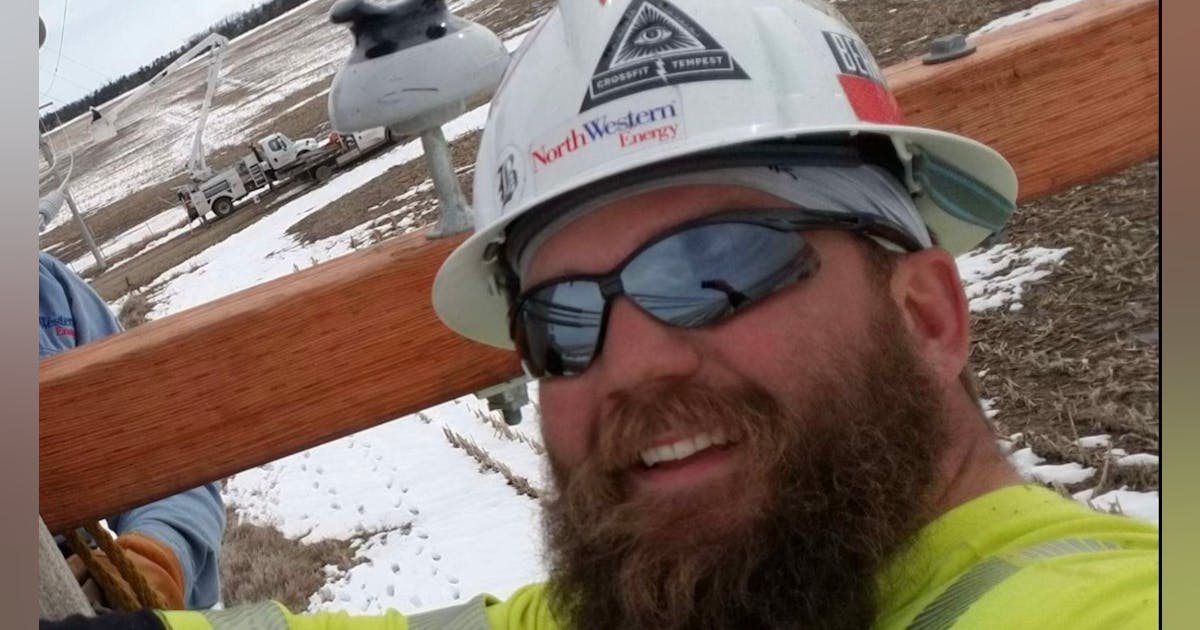 Source Feeding Services
Born in Colorado Springs, Colorado, and moved to South Dakota when he was 12 years old.
Is the youngest of three children. Her older sisters live in Minnesota and Dallas.
Married to his wife, Sara, for four years and has three dogs: Boss, a springer spaniel/heeler mix; Moose, a chocolate lab/border collie mix and Ruby, a Bernese mountain dog.
Enjoys spending time with family and friends, exploring all that Montana has to offer, going to concerts, and playing Monopoly.
First years
My dad got me into the business. He was an electrician and plumber, and he worked alongside a lot of linemen and felt that would be a good fit for me. I have always had a passion for working outdoors and with my hands. He inspired me to always work hard and be 100% the best lineman I could be. I went to school at Mitchell Technical College in South Dakota, and after graduating I got a job in Nevada. My first utility job was in Williston, North Dakota with Montana Dakota Utilities. I was still an apprentice, and I was extremely busy at that time because 2009 was the peak of the oil boom.
day in the life
In 2019 my wife and I moved from Mitchell, South Dakota to Montana. While my home base is Montana, I am currently working on the central coast of California. As a Journeyman Lineman at Source Power Services, I inspect and quality control PG&E power lines. My typical day includes trips to specific areas where I need to inspect poles.
Safety lesson
Safety has always been important to me. One time it really got to me, however, was when a close lineman friend from my hometown got electrocuted while doing maintenance work on a leaning pole. As they were setting up trucks the pole broke causing the phase to fall on my friend and electrocute him, burning him quite badly. Fortunately, his colleagues were able to perform CPR and save his life. He made a full recovery and is still in business. That's when I realized how important safety is and always take every precaution, even if it takes longer.
memorable storm
In 2017 or 2018 we had a huge spring snow and ice storm. We worked around the clock for a few days with little sleep to restore power to the area. The storm of wind, ice and snow arrived so quickly that the lines began to gallop under the weight of the ice. The ice accretion overcame the power grid, breaking poles and rails. There were a lot of tree branches due to the weight of the ice which caused even more damage. It was a cold and wet project with a lot of snow, which made setting up the equipment difficult.
Tools and technology
I can't live without a handy pair of Kleins and a voltmeter. Also, when doing storm work at night, a Halo headlamp for my helmet is something I've relied on many times. However, when it comes to other types of technology, traditional methods have proven themselves.
Projects for the future
Because I have so many different interests, I would be curious to try other careers, but the utility industry has been really great for me. The degree of satisfaction and pride I have as a journeyman lineman would be hard to match. My future plans are to continue to learn, improve and pass this knowledge on to young apprentices entering the trade.