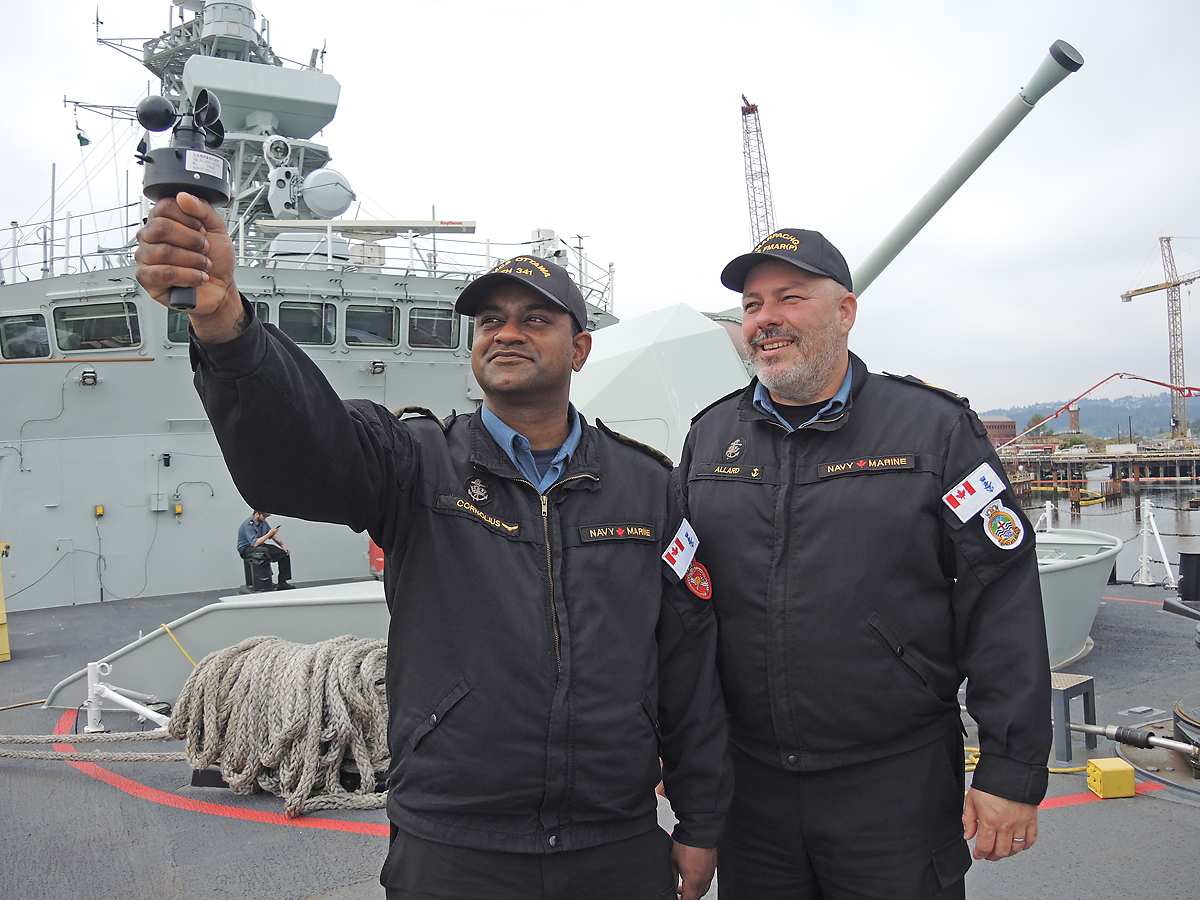 AThe new weather forecasting season begins this week for meteorological technicians serving in the Royal Canadian Navy (RCN).
Petty Officer 2nd Class (PO2) Robert Allard will become the first Navy Met Tech (Met Tech) to sail on active duty on HMCS Ottawa.
"Having someone on board in a navy uniform doing forecasts is something new," says PO2 Allard.
The Met Tech trade has existed within the Royal Canadian Air Force for decades, but in 2011 the Canadian Armed Forces (CAF) opened up the trade to all elements. Last year, the RCN began seeking candidates for senior positions on the frigates. So far only PO2 Allard and Petty Officer First Class Amanda Pound have joined, with PO2 Allard being the first to set sail. PO2 Allard says his posting marks the start of a closer relationship between the RCN and the Met Tech trade.
Met Techs observe and forecast weather conditions in support of operations at various facilities in all three elements. They record, process and analyze weather information, operate and maintain equipment and notify staff of weather conditions.
PO2 Allard works as a supervisor within the meteorology and oceanography department of Maritime Force Pacific. Aboard ships, he notes, commerce is playfully referred to as "the witches of time." The Met Techs have other responsibilities including maintenance work, full stocking of the ship's stores and ammunition, and handling mail.
The Met Tech cohort sailing ships will increase over time. Uniformed Met Techs must attain the necessary rank to hold senior positions. Vocational training lasts six months, with an additional six months of advanced training required to qualify for a ship's assignment.
An eye to the sky
In open waters, weather technicians monitor wave heights, iceberg and sea ice conditions four times a day and make observations whenever the aircraft is in concert with the ship.
"The work is more difficult at sea because some of the more advanced computer tools we use on land are not available at sea," explains PO2 Allard.
Met Tech reports are essential to a ship's command team, says Lieutenant (Navy) Meghan Jacques, HMCS from Ottawa Navigation officer.
"We can't google the weather in the middle of the Pacific," she says. "We need to know if we will have high seas or winds to determine if the crew can do their job."
Robert's story
The evolution from PO2 Allard to the Met Tech trade was not intentional, but rather circumstantial. He served as a naval warfare officer until one of his mentors suggested he consider meteorology. He says he was fascinated after realizing he could make a living studying the science of weather.
"I thought everyone likes to talk about the weather, but the CAF will pay me to become an expert in understanding how the weather affects CAF missions," he says. "I just had to be part of it."
HMCS Ottawa will sail the waters of Esquimalt from June 13-27 as part of the Tiered Readiness Program. The M2 Allard says this may be her last sailing for the foreseeable future. In July, he will be posted to the Canadian Forces School of Meteorology at 17 Wing as a Senior Meteorological Instructor. He will be the first Navy instructor at the school.