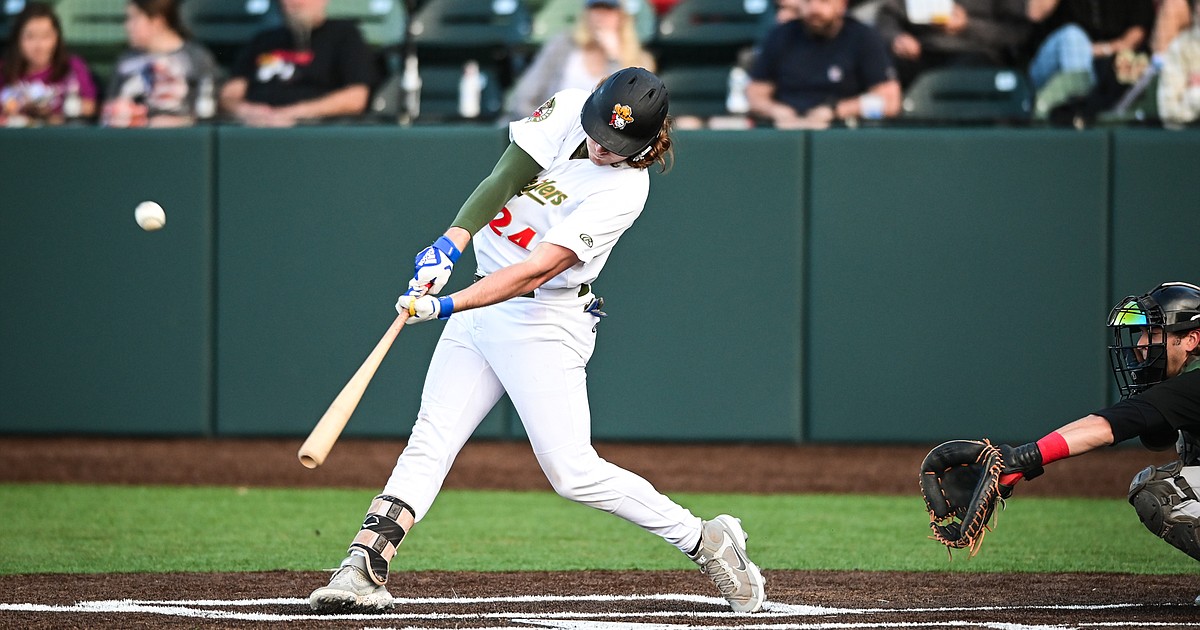 The first thing you might notice about Glacier Range Riders first baseman Brody Wofford is the flow.
He's had the look for a long time: at LSU, Central Florida, Georgia Gwinnett and now, Flathead Field.
"I don't care about long hair," Wofford said. "But if I had had one more bad week, I might have cut it."
The other thing you should notice – opposing clubs in the Pioneer League should notice – is how well the 6-foot-2 southpaw has been swinging the bat lately. In his last six games, he has six home runs and 12 RBIs. His short salvo of .462 hits brought his batting average for the season to .274.
The "fix", if you want to call it that, was simple.
"I was hitting with Stu Pederson," Wofford said, referring to the Range Riders bench coach. "We were working on my direction, and we were really just working on getting a kick a little bit higher in the leg, so I could read the ball as it came in."
He read the ball pretty well for two homers on July 28. Then came a grand slam the next day; he hit another slam at Billings on Thursday — in his second two-home run game in seven days.
It ran through the slots it launched in July: heater, cutter, cutter, heater. The timing mechanism makes it hit just about anything.
"It really made the difference," Wofford said. "I was really spinning balls. I was advancing very early and it gave me the impression of having to swing, each time. I didn't read the spin well, I just couldn't see the locations. I was just swinging to swing.
"He could still hit," noted Glacier manager Nick Hogan. "He gets hit everywhere he goes. Stu was good at making minor tweaks with guys, like, "Hey, here's how you can make things a little better." And it worked, of course.
Wofford is 25 and in his third professional season. After a roving college career that began in Louisiana State, including a 2017 Junior College World Series title with Chipola (he won the final match) and an appearance at the NAIA World Series with Gwinnett in 2019, he has landed at Lake Erie of the Frontier League. He played there in 2019 and 2021, and was heading there this year as well.
"When I first called him, he was already under contract with Lake Erie," Hogan said. "Then in January or December I got a call from (Lake Erie manager) Cam Roth, who I played against – I was at Georgia State and he was at UNC-Wilmington – and we sort of so put 2 and 2 together."
Roth had another veteran first baseman coming in and soon learned of Wofford's contact with Hogan.
Now, Wofford is one of the constants for the Range Riders, who have gone through numerous roster changes since May. Wofford, Brandt Broussard, Ben McConnell, Dean Miller and Ryan Cash are the position players who have adapted all season.
"The originals," Hogan said. "Dean, Brody, Nash, Broussard, all take leadership in this area. And when things aren't going well, they step in and raise their voices, and do it when they need to.
Wofford took another look at Flathead Field and said very few places compare.
"A few SEC parks, maybe," he said. "It's by far the best pitch I've ever played on."
Victories have been hard to come by in the scenic park. But Thursday's victory showed just how good it can be: the Riders trailed 8-3 and surged to win 12-8.
Wofford's seven RBIs have a lot to do with it, of course, and the momentum can be finicky. But returns look good in the library.
"I think we can turn it around," Wofford said last Sunday. "End the week strong, have a great second week and pile up some wins."