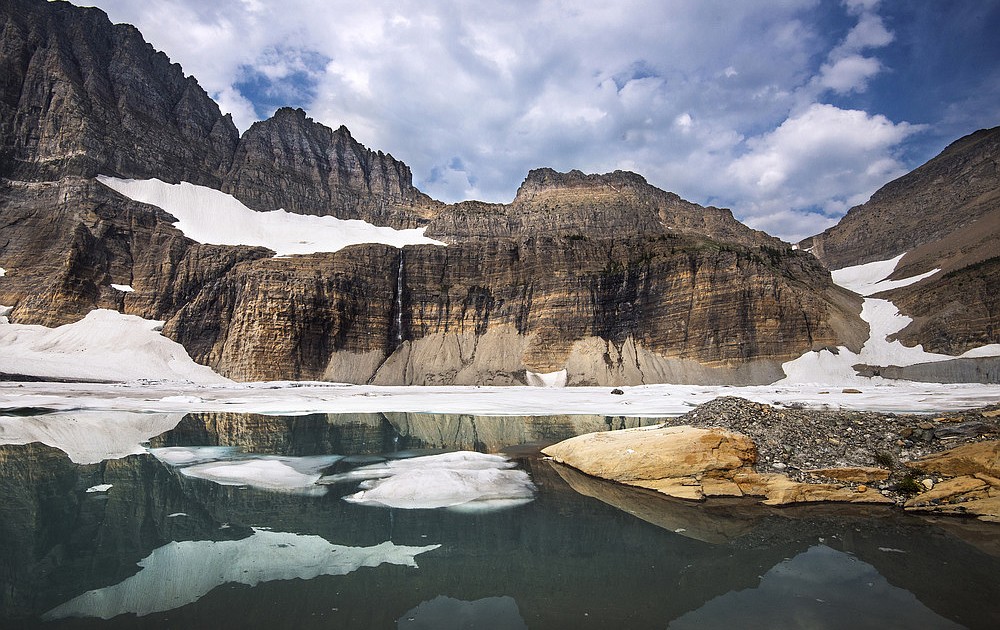 WEST GLACIER, Mont. – The Going-to-the-Sun Road recently opened for the 2021 summer season. The road is now accessible to motor vehicles from the West Glacier and St. Mary entrances.
An entrance reservation ticket in addition to an entrance pass is required to access Going-to-the-Sun Road via Camas Road, West Glacier and St. Mary's between 6 a.m. and 5 p.m. daily until September 6. Visitors should expect long lines and delays if entering the park at 5 p.m.
With the full opening of Going-to-the-Sun Road, the number of available admission tickets will be increased. This increase will be executed by a series of additional ticket releases made available each morning from 8 am.
Entrance reservation tickets are not required for any other part of the park, but visitors are still subject to the entrance fee or vehicle pass. These areas are congested and visitors can expect mid-morning traffic restrictions.
Services at Logan Pass will include restrooms and potable water. Visitor information services will be provided outside the Logan Pass Visitor Center from 9 a.m. to 7 p.m. daily. The Glacier National Park Conservancy bookstore will operate inside the Logan Pass Visitor Center, with upper level access. The bookstore will limit the number of people inside at all times to allow for appropriate social distancing.
There will be work areas on Going-to-the-Sun Road this summer. Construction crews are installing new vault toilets at Big Bend and a new weather shelter for the shuttle at Logan Pass. Masonry work will be underway at various locations. Due to construction, Big Bend will have fewer parking spaces, although the trail to the waterfall will be accessible. Visitors should be on the lookout for these work areas, slow down and make way for construction workers.
When driving along the route – particularly in the Rim Rock area (approximately 1 mile west of Logan Pass) – visitors should be aware of potential rockfall and should not slow down or stop in this section. Rocks and other debris continue to fall all summer long, requiring daily cleaning.
Vehicles and combinations of vehicles over 21 feet and / or over 8 feet in width are prohibited on Going-to-the-Sun Road between Avalanche Campground and Rising Sun. Vehicles over 10 feet in height may have difficulty driving west from Logan Pass due to rock overhangs.
The Logan Pass Highline Trail is still closed due to dangerous snow conditions. For up-to-date information on trail conditions and clearing activities, visit the park's trail condition web page.
The park visitor transportation service, or shuttle service, along the Going-to-the-Sun route will be operational this year as part of a Ticket-to-Ride system. Tickets went on sale June 1 on Recreation.gov and service will begin today. Tickets must be validated at the visitor center selected at time of booking, either Apgar Visitor Center or St. Mary Visitor Center. Face masks are mandatory on the shuttles. Please check the park's website for more information on shuttle stops.
Cyclists are reminded that cycling safety restrictions on Going-to-the-Sun-Road are in effect and will remain in effect until Labor Day, September 6. Bicycles are prohibited in certain areas between 11 a.m. and 4 p.m. be found in the park journal available at park entrance stations, or online at the park bicycle information web page.
With the help of the Glacier National Park Conservancy, the park has launched an idling awareness campaign. Visitors are encouraged to limit vehicle idling to a maximum of two minutes at Glacier in parking lots, lookouts and trailheads, as well as stopping on traffic lanes and the construction of roads to benefit the health of the public and the resources of the park.
Visitors should not throw food waste, including apple cores, orange peels, sunflower seeds, unwanted drinks (coffee, tea, soda), etc., through car windows when doing so. tail. This attracts wildlife to the roads, increasing the number of wildlife deaths. Dispose of garbage in bear-proof bins.