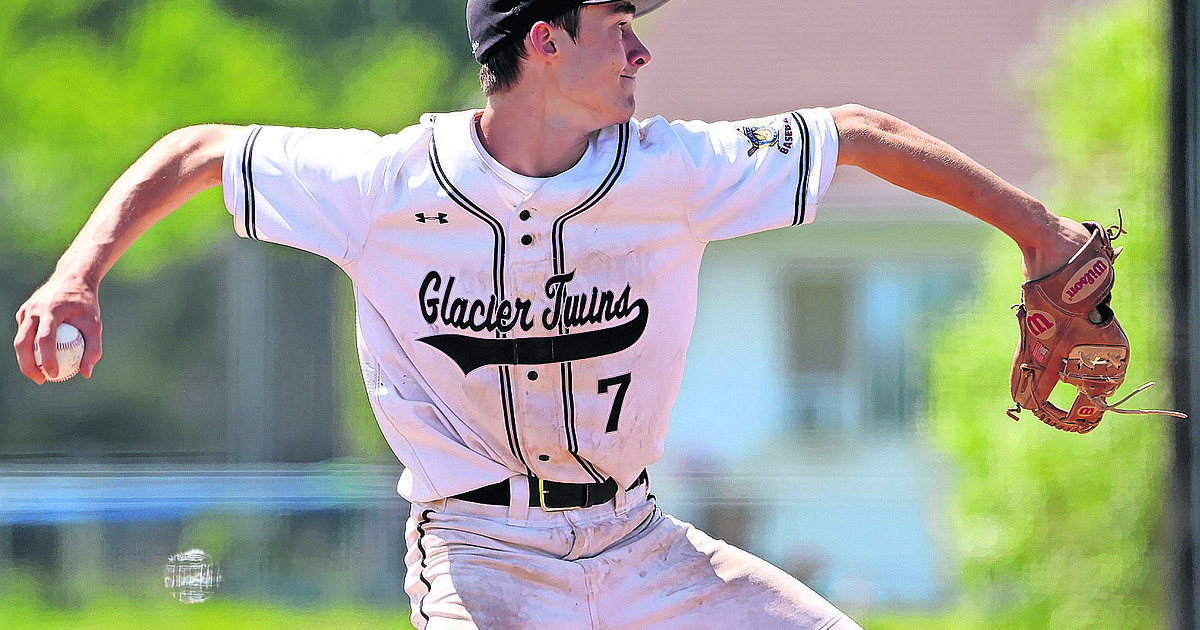 The Bitterroot Red Sox capitalized on huge offensive outbursts in the first and last innings to win the Western A District championship over the Glacier Twins, 13-1, at Griffin Field on Sunday.
The two teams met in the semifinals with the Red Sox picking up the win, forcing Glacier to take a slightly longer path to the championship and set up the rematch by beating the Bitterroot Bucs 14-11 on Sunday morning.
The Twins pitched Jake McIntyre to start who didn't register a strikeout as Bitterroot took a 4-0 lead. Kellen Kroger was a big relief for the Twins, pitching five innings and striking out six while giving up no earned runs.
Red Sox starter Timothy Hickey went 6 1/3 innings while driving in two runs on offense.
McIntyre found himself in an early traffic jam when he returned home with the bases loaded to give the Red Sox a 1-0 lead with no outs.
Bitterroot followed that up with back-to-back hits to the outfield, extending the lead to 4-0 with a two-run double RBI from Mason Anderson highlighting the rally.
Twins manager Kevin Slaybaugh made the move to his bullpen to bring Kroger to the relief mound with no outs and runners at first and third. Kroger settled things by retiring the first batter he faced and managed to come out of the inning with no more damage thanks to a smooth 4-5-3 double play.
The Twins rebounded in the bottom of the first when a two-out double to right field from Kroger led Mikey Glass into base on an error that made it 4-1 in one inning.
Kroger kept things going in the second with two quick outs, but a third hit and a single to left field put the runners first and second for the Red Sox with two outs. That's when passed balls became a problem for the Twins.
On the backcourts, the ball drifted away from Glacier's receiver, resulting in a Red Sox run. Bitterroot added one more when Conner Ekin came on and scored for the Twins.
On back-to-back pitches, the ball traveled away from Glacier's catcher, resulting in a Red Sox run. Bitterroot added one more when Conner Ekin came on and scored on an error to make it 6-1.
To start the third, Red Sox left fielder Tyler Jones reached first and moved into the scoring position after stealing second.
Kroger retired the next batter he faced, but passed balls continued to be a problem for Glacier as the ball rolled toward the backstop, moving Jones up to third. Kroger landed another strikeout for the second out of the inning, but a single to left field drove in a run, pushing the score to 7-1 Red Sox.
Despite the deficit, Glacier's bench was enthusiastic, with loud cheers coming from the dugout as Mason Peters headed for home plate and took a lead down the center. Hickey managed to calm the storm, however, knocking out three straight Twins batters and ending the inning.
High winds started blowing at Flathead Field, but Kroger seemed unfazed as he pitched a scoreless fourth inning.
Kroger helped his own cause with a first left single in the bottom half of the inning. An error and a single loaded the bases for Glacier when AC Chilson smoked a line directly into the glove of Red Sox right fielder Esten Pierce, who fired a dart at first base for a double play that ended the rally of the Twins.
Kroger pitched another scoreless inning in the fifth and Peters made a leaping play at shortstop to end the inning and send the crowd into a frenzy.
Peters stepped up to the plate to start the bottom of the inning and drilled a one-liner in left field when Bitterroot outfielder Tyler Jones managed to steal a hit from Peters for a sound reel defensive play own leader. Stevyn Andrachick singled to center, but Hickey got two more quick outs to keep the lead at 7-1 of five.
Michael Miller entered the game in sixth to pitch for Glacier and pitched a 1-2-3 inning to keep the deficit from growing.
In the seventh, the Red Sox blew things up, adding six runs on four hits. Hickey and Elkins then combined to hold Glacier scoreless in the seventh to end the game
Twins manager Kevin Slaybaugh pointed to the team's "never give up attitude" as a factor in their comeback following Thursday's win over Cranbrook and throughout the Western A district tournament.
Red Sox 421,000 6 — 13 11 3
Twins 100,000 0 —1 7 3
Jake McIntyre, Kellen Kroger (1), Michael Miller (6), Matthew Mitts (7), AC Chilson. Tim Hickey, Conor Ekin (7), Paul Brenneman.
BITTER ROOT— Tim Hickey 2-4, Aaron Springer 0-3, Sawyer Townsend 1-2, Conor Ekin 1-3, Bridger Huxtable 2-5, Mason Anderson 3-5, Tyler Jones 0-4, Esten Pierce 1-3 , Paul Brenneman 1-3.
GLACIER— Mason Peters 1-4, Stevyn Andrachick 2-4, Mikey Glass 1-4, Hayden Meehan 0-4, Kellen Kroger 2-2, Jake McIntyre 0-3, Dayne Tu 0-0, Owen Shilling 1-2, AC Chilson 0-3, Michael Miller 0-1.
2B—Anderson, Huxtable, Kroger. RBI—Anderson 2, Brenneman, Ekin, Hickey 2, Huxtable, Kroger, Pierce, Townsend 2.
Twins 14, Bucs 11
Glass went 4-for-4 and drove in five runs, including a two-run single that capped a five-run outburst in the third inning that put the Twins up 7-4.
The gap increased to 9-4 on AC Chilson's RBI single in the fourth, 11-5 after Glass singled and eventually scored on a fly ball passed in the fifth, and 14-9 when Glass hit a simple that brought home three runs in the sixth. .
Glacier scored in every inning, which proved useful mainly because of the Bucs' Brodie Hinsdale: he tripled and scored in the first inning; hit an RBI double in the sixth; doubled and scored in the seventh and added a sacrificial fly in the second.
Andrachick doubled, stole a base and scored four times for the Twins. Maddox Muller took the win on the mound, allowing six hits and four runs (two earned) in 3 innings 2-3. He scratched one.
The Bucs finished 25-24-1.
Bucks 220 014 2 – 11 12 4
Twins 115 223 x – 14 14 4
Drew Scully, Brodie Hinsdale and Jake Roth. Glass, Maddox Muller (2), Meehan (6) and Chilson.
BUCS BITTERROOT – Hinsdale 3-4, Roy Cobs 1-4, Gabe Philbrick 2-4, Troy Larson 0-2, Scully 1-3, Patrick Duchien 0-4, Roth 2-4, Braedon Bahm 1-4, Camden Blair 2-4.
GLACIER TWINS – Peters 2-4, Andrachick 2-4, Glass 4-4, Meehan 1-5, Kroger 1-4, McIntyre 1-3, Muller 1-4, Shilling 0-2, Ruther 1-1, Chilson 1 -3, my 0-0.
2B—Hinsdale 2, Roth, Andrachick, Peters. 3B-Hinsdale. RBI – Hinsdale 2, Combs 2, Roth, Bahm, Glass 5, Kroger, Chilson, Andrachick, McIntyre.