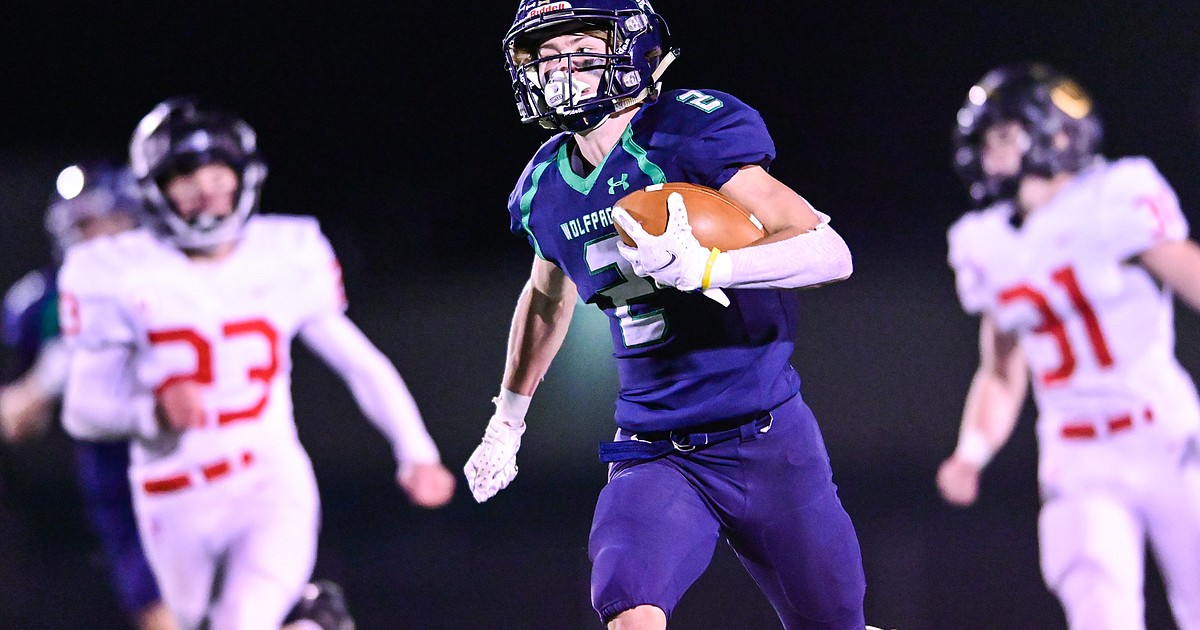 The Glacier Wolfpack was one Jake's, and for a minute it was two, but still had the guns to beat Missoula Hellgate 55-20 in a Western AA football game on Friday night.
Connor Sullivan was one of those weapons.
The senior receiver and defensive back were important during the senior night at Legends Stadium, scoring two assists, scoring 135 receiving yards and making the game of the game: An 82-yard kickoff return for a touchdown with 9 seconds to go in the first half.
Jake Rendina had 222 yards and four touchdowns for the Pack, which is now 6-3 overall and 4-3 in the league. He had three scores after his troublesome ankle ruled him out for a streak; Glacier also played without top receiver Jake Turner.
Sullivan's return, just seconds after Hellgate closed at 28-20 on a touchdown pass from Connor Dick to Ian Finch, was a balm.
"It's huge," said Glacier coach Grady Bennett. "Because they get the ball first to start the second half. If they score bang-bang, everything changes.
Instead, Glacier took a 35-20 lead in the intermission and then managed to keep the Knights (2-6, 1-5) scoreless from there.
Hellgate reached Glacier 24 on his first possession in the second half and 14 in the next; these practices ended in a turnaround on downs and Sullivan's second interception.
After his pick, Sullivan carried a 45-yard bomb from Gage Sliter, setting up a 22-yard pass to Tate Kauffman. It was 41-20 and the result was decided.
"The thing with Connor Sullivan," Rendina began. "From his second year to his junior to senior year, he's just made a jump. He's right at the top. It's his last year and man I'm so proud of him. You could see his speed and his ball tracing through the air, it's awesome.
Rendina was also tall, reaching a season-high for yards even though he limped on the sidelines after gaining 2 yards on the Pack's second practice. Glacier eventually gave the ball over the downs, then allowed a 70-yard Hellgate walk, topped off by Jacob Sweatland's 1-yard TD run.
On the next possession, Glacier ran for 52 yards, ending with a 1-yard run from Wyatt Thomason, to lead in earnest, 14-7. Meanwhile, Rendina was back on the sidelines, breaking away.
"I heard a little crackle in there and thought, 'Oh, shoot,'," he said. "I went out and then – I felt good. A little pain or something – it was just cartilage. I think I gained some speed with that as well.
On his next 11 carries, he gained 107 yards, including a scoring 5-yard run that gave Glacier a 21-13 lead at 5:46 of the second quarter. All other worries were gone when he ripped off 33 and 35 meter tracks on the next ride.
Sliter, who was 12 on 15 passes for 241 yards, capped that with a 10-yard strike to Luke Bilau for a 28-13 lead.
Rendina added runs from 2 and 28 yards in the second period.
The Knights, who had an outside chance in the AA playoffs, had 105 rushing yards and 60 receiving yards from Sweatland. Dick threw for 182 yards but was intercepted three times, including once by Levi Frost.
Glacier ran a double cover on Finch and top receiver Leo Filardi: Filardi didn't catch a ball, although Finch caught eight for 101 yards and that one TD.
"Ian Finch, No.11, is a hell of a athlete," Sullivan noted. "He's 6 feet 2 inches, 215, something like that. Shoot, they scored, but the coach still says, 'Win a game'. It's the mentality. I just rinsed it off.
"At kick-off I went right, got lost a bit, tripped, saw the left side was open, so I just took it home."
"He knew his boyfriend Jake Turner had been playing games," Bennett said. "He tried to give it a go tonight and obviously couldn't, and Connor knew it.
"Other players had to step up and sort of take on that role. Connor had an amazing game tonight, all three phases. "
Gates of Hell 7 13 0 0 – 20
Glacier 14 21 6 14 – 55
G – Jake Rendina 2 run (kick from Patrick Rohrbach), 9: 52-1Q
H – Jacob Sweatland 1 run (Leo Filardi kick), 3: 45-1Q
G – Wyatt Thomason 1 run (Rohrbach kick), 1: 54-1Q
H – Connor Dick 4 run (missed kick), 11: 00-2Q
G – Rendina 4 run (Rohrbach kick), 5: 46-2Q
G – Luke Bilau 10 assists from Gage Sliter (Rohrbach kick), 2: 52-2Q
H – Ian Finch 3 assists from Dick (Filardi kick),: 25-2Q
G – Connor Sullivan 82 kick off return (Rohrbach kick),: 09-2Q
G – Tate Kauffman 22 assist from Sliter (failed run), 1: 40-3Q
G – Rendina 2 run (Rohrbach kick), 10: 37-4Q
G – Rendina 28 run (Rohrbach kick), 2: 43-4Q
Individual statistics
RUSHING: Hellgate (33-167) – Sweatland 15-105, Sam Swain 1-30, Dick 15-18, Finch 1-14, Team 1-0. Glacier (38-263) – Rendina 28-222, Kash Goichoechea 4-26, Thomason 5-17, Sliter 1-2.
PASSAGE: Hellgate – Dick 15-35-3 for 182 yards. Glacier – Sliter 12-15-0 for 241 yards.
RECEPTION: Hellgate – Finch 8-101, Sweatland 5-60, Swain 1-13, Mario Rosemond 1-8. Glacier – Kauffman 5-93, Sullivan 4-135, Bilau 3-13.