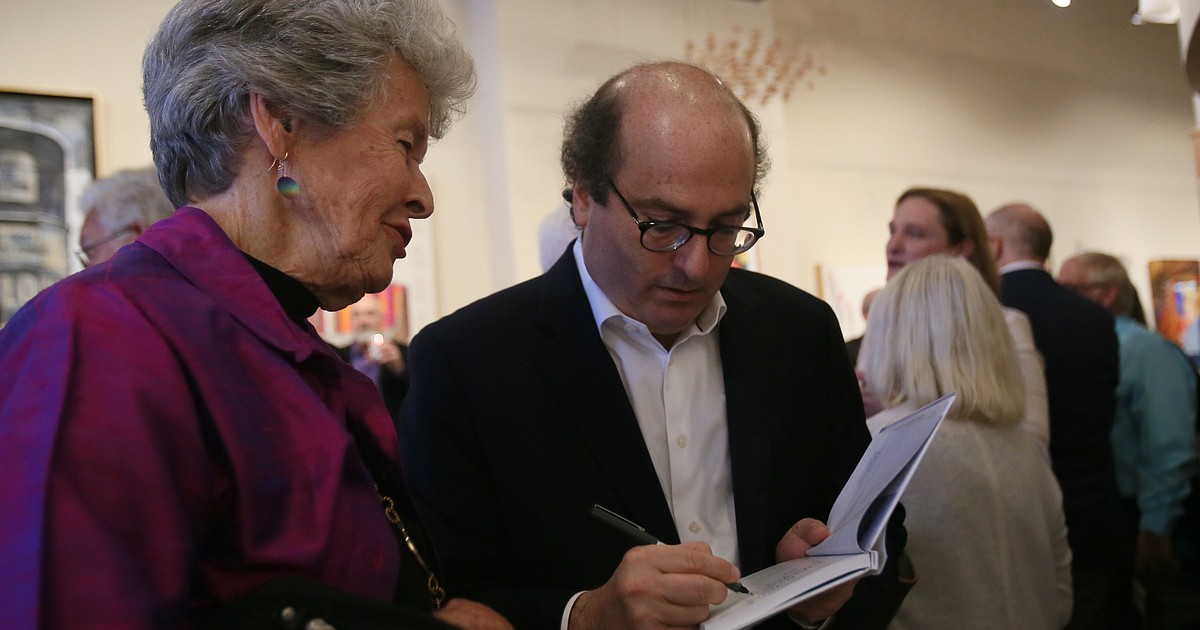 COEUR d'ALENE — David Grann admits it — he hates the cold.
"I enjoy reading these stories, preferably near the warm comfort of a fire," the bestselling author and award-winning journalist said as he opened his speech Friday night.
This aversion to freezing temperatures hasn't stopped him from immersing himself in the harrowing, heroic, and heartbreaking stories he uncovered while researching his non-fiction book, "The White Darkness: A Journey across Antarctica." .
He was drawn to this subject not only because it was one of the greatest feats of endurance with a family love story at the center, he said, "but it's also a story of leadership and the choices we make".
"I think something, which is central to our humanities theme, teaches us something about the human condition," Grann said.
Grann was the keynote speaker at the 17th Annual Northern Idaho Distinguished Humanities Conference at the Coeur d'Alene Resort. Humanities Council of Idaho executive director David Pettyjohn said Grann was booked for 2020, but his appearance was postponed due to the COVID-19 pandemic.
"We knew his stories and his ability to tell those stories would be of great interest to the citizens of northern Idaho," Pettyjohn said. "David is a non-fiction writer. He shows how stranger than fiction and how very interesting truth can be. He's an incredibly talented speaker. He connects in so many ways; he brings the story as few authors can."
Grann shared bits of the true story of British explorer Henry Worsley, a man determined to cross Antarctica on a lonely, unaided quest. Worsley embarked on this journey hoping to achieve what his hero, Ernest Shackleton, had failed to do 100 years earlier. Prior to the solo mission, Worsley led an expedition and found the hut that Shackleton and his party had built and inhabited before heading to the South Pole in 1908.
"Shackleton had called the refuge 'the Mecca of all our hopes and dreams,'" Grann wrote in a passage in his book.
He said that like a general developing a plan of attack, Worsley studied Antarctica and plotted routes for the expedition.
"The more he studied it, the more off-limits this place seemed to him," Grann said. "The continent – and I really wasn't aware of this before I started researching this story – it's almost 5.5 million square miles, it's bigger than Europe and it's double size in winter when coastal areas freeze.About 98% of Antarctica is covered by an ice cap.Antarctica is classified as a desert because there is so little precipitation and nothing lives there. "
As Grann recounted Worsley and his unfortunate adventure, he spoke with compassion and amazement, with a feeling that only writers know when they follow the trail of information and feel a closeness to their subjects.
"One of Shackleton's real lessons was that in failure there can be triumph and there are always elements of our lives, probably Antarctica more than anything else, that are not conquerable," Grann said. "In that failure, when you have that triumph, you recognize that one of those triumphs is the triumph of life itself."
Worsley died shortly after returning from the single-player mission, which he was unable to complete. Grann said Worsley and his family would want his lifelong spirit remembered and his life investigated.
"It's a tragic story, a very sad story," Grann said. "But I think we all face in some ways those times on our own terms, in our own lives, where we have to come to terms with our own limitations and the questions we ask and the leadership decisions we make."