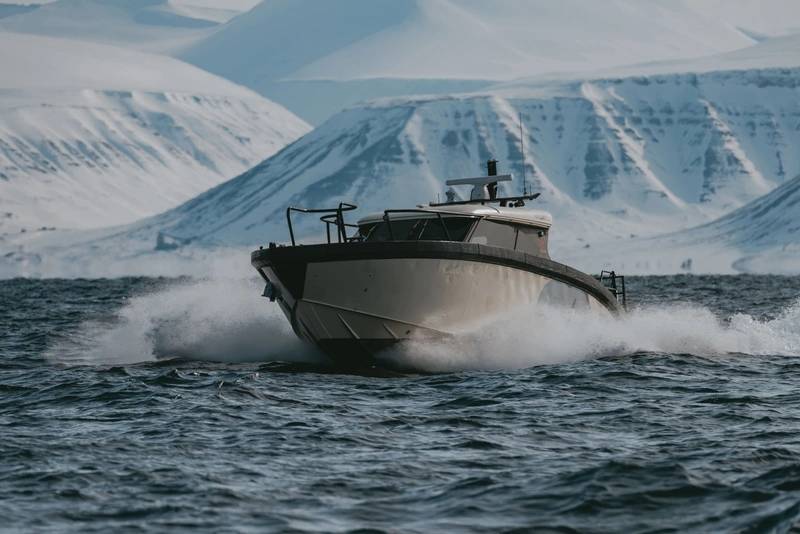 Tore Hoem, director of adventures at Hurtigruten Svalbard, has lived in Svalbard, the remote Norwegian archipelago a few hundred miles from the North Pole, for more than two decades, long enough to witness the sea ice melting significantly and the rain that crept in at the start and end of the snow season.
These alarming effects of climate change are among the key drivers of the Hurtigruten Group's sustainability efforts, including a new hybrid-electric tour boat recently commissioned in Longyearbyen, Svalbard's largest inhabited area. The 14.9-meter aluminum vessel, Kvitbjørn, built by Marell Boats in Sweden, runs on a hybrid-electric propulsion system developed by Volvo Penta.
Powered by a Volvo Penta twin D4-320 DPI Aquamatic hybrid solution, the boat has a top speed of 30-32 knots and a cruising speed of 24-25 knots, with a range of 500 nautical miles. Volvo Penta's "helm to propeller" package for the vessel includes engines and transmissions, electronic vessel control (EVC), joystick control, dynamic positioning system and interface driver. The capacity of the ship's lithium-ion batteries is 100 kilowatt hours (kWh).
Given the current state of technology, electrification is not an option for all ships. Consider the use case to determine whether a hybrid or all-electric setup makes sense. For Kvitbjørn, which will be used for 3-4 hour guided tours, batteries combined with diesel engines do the trick.
It wasn't the only option, of course. According to Hoem, Hurtigruten had considered ordering a vessel with alternative propulsion arrangements such as more traditional outboard motors, but ultimately opted for Volvo Penta's hybrid-electric solution due to its environmental benefits, as well as improving the passenger experience.
Tore Hoem, Adventure Director at Hurtigruten Svalbard (Photo: Volvo Penta)
Kvitbjørn tours from Longyearbyen will allow up to 12 passengers to experience the dramatic seascapes and landscapes of the Arctic, as well as the true residents of Svalbard: its natural wildlife, which includes polar bears, reindeer, puffins , seals, walruses and whales. The goal isn't to cruise over 50 knots, it's to give passengers the best trip possible, Hoem explained. "The key to this, in many ways, is silence."
Kvitbjørn can be used in three modes: full diesel, diesel with electric assistance or all-electric, the latter allowing for a quieter ride, much more pleasant for those on board and less disturbing for the surrounding environment.
"It's kind of a paradox to take guests to a glacier front with noisy engines running. That silence might be the coolest thing about it [vessel]", Hoem said. "Of course we go from A to B with a little noise and diesel, but when we get to our destination it's quiet. And that's the key here, with the sustainability part.
And while diesel-electric wasn't the only option, it certainly wasn't the easiest either. It took a lot of engineering to pull it off, explained Jonas Karnerfors, sales project manager at Volvo Penta. One of the main challenges was finding a way to integrate the large heavy batteries into the hull of the Marell M15. The team also had to find a way to heat the batteries – rather than cooling them, as is common in other environments – to ensure they maintained an optimal temperature in the frigid Arctic waters. , said Karnerfors.
Left to right: Johan Inden, President of Volvo Penta's Marine Business Unit, and Jonas Karnerfors, Business Project Manager at Volvo Penta (Photo: Eric Haun)
Kvitbjørn is part of wider sustainability efforts led by both the Hurtigruten Group and Volvo Penta, alongside peers from the tourism and marine industry working to reduce their environmental impacts . Increasingly, hybrid and electric propulsion solutions are attracting interest from marine operators striving to reduce emissions in various sectors.
"Our vision as a company is to be a global leader in sustainable energy solutions," said Johan Inden, president of Volvo Penta's marine business unit.
Volvo Penta, as part of the Volvo Group, is committed to being climate neutral by 2050. The company aims to bring a wider range of hybrid and fully electric products to market by 2025, and Inden said Volvo Penta sees 2030 as a "tipping point" for the adoption of green propulsion technologies in the marine industry.
(Photo: Eric Haun)

According to Inden, Volvo Penta's 'helm to propeller' approach better positions the company to achieve its sustainability goals by allowing it to have greater control over maximizing overall vessel efficiency. . "The platform we have developed is a combination of software systems, an integration between all parts of the propulsion system with highly efficient drives and propellers. This gives us a very unique position.
Inden said the drive system in particular is often underestimated as a necessary part of green propulsion solutions. "The more efficient your power is in the water, the less footprint you will have," he noted.
As Kvitbjørn gets to work, Volvo Penta will analyze the fuel savings and emission reductions afforded by the hybrid-electric solution, Inden said.
In addition, over the next three years the companies will test hybrid drive technology as well as Volvo Penta's new 'e-mobility-as-a-service' business model, which will see Hurtigruten Svalbard pay per kilowatt-hour for electricity. operation of the ship. According to Volvo Penta, this payment model, although still in the design stage, was designed as a way to share risk with the end user, as marine electrification solutions are generally more expensive.
Inden said this model could be particularly attractive in the commercial marine sector for workboat owners and operators looking to go green. "You don't have to make a huge investment. You go to the bank, you finance it and then you write it off. You can actually use the ship and pay for it as you earn your income," Inden said. "It's an interesting aspect of a business model and a financial perspective, but more than that, it engages us with the customer in a different way, and there's a different responsibility on our end."
(Photo: Volvo Penta)

Throughout the three-year contract, Volvo Penta will supply the driveline as a service; she still owns the equipment. The boat is contract-separated from the transmission, Inden said. In this case, Volvo Penta will monitor the transmission and retain responsibility for ensuring that it remains operational. "It's not that we hand over a ship and the customer calls us when something is wrong. Now we are a bigger part of the operation," Inden said. "As we move with the times, we hope that an operator or captain will feel that we are a closer partner in ensuring they are up and running. It's a real plus for that. »
But there are still questions to be answered. "In this setup, we're racing and we're testing," Inden said. "We want to understand how this will work in a real business operation – insurance, additional financing, liability, data protection, etc. That's really what we're trying to push here to start this discussion. And we don't know the solution. We don't know where exactly it will go, but we're sure it's going in that direction, so we have to figure it out."
In the event that Hurtigruten Svalbard pulls out at the end of the three years, the setup is such that Volvo Penta can swap the equipment for a regular transmission. "It's very safe from that perspective," Inden said. "You always have to think 360 degrees when doing something like this. What are the options for all parties involved? Can we do it safely? Can we do it with productivity and availability for the customer? I hope they will be happy to continue, but let's see.
The Volvo Penta DPI package includes a hydraulic clutch for quiet and smooth gear changing at low revs, as well as improved maneuverability. With steer-by-wire technology, joystick functionality is also precise, providing better control. Kvitbjørn also has a joystick on the aft deck so a guide can steer the ship from outside during a tour. (Photo: Eric Haun)