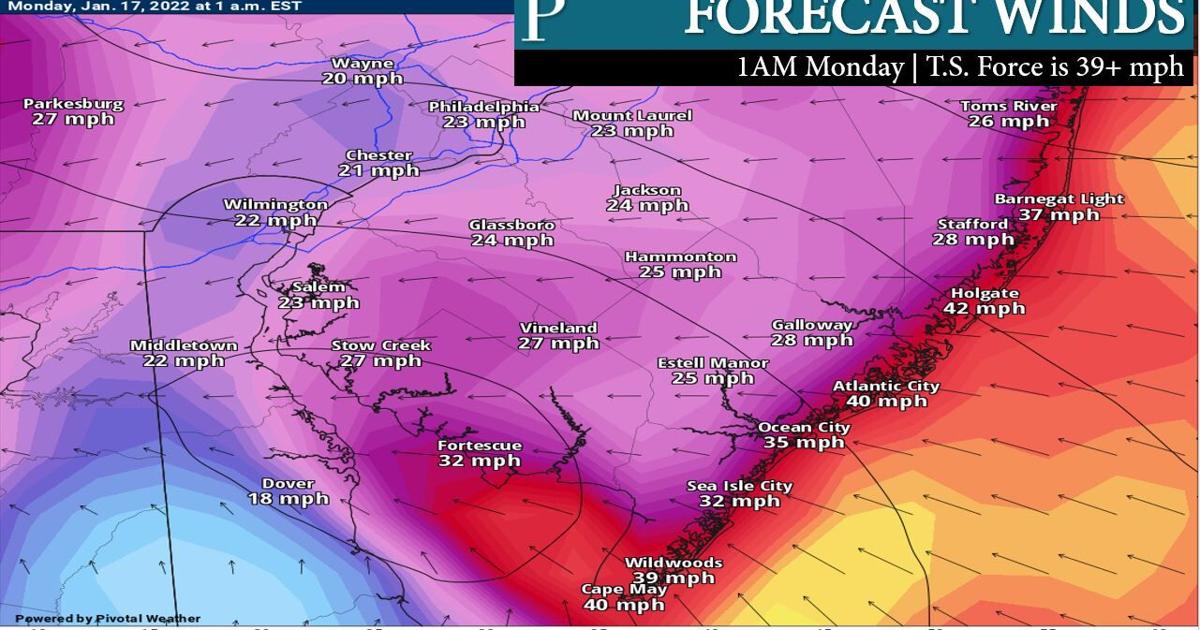 A wind advisory is in effect for Jersey Shore counties from 6:00 p.m. Sunday through 6:00 a.m. Monday.
Damaging winds and power outages will be possible Sunday evening. Given that this will happen overnight, the impacts may be exaggerated as many of us are asleep and unaware of what will happen outside.
You'll want to make sure to cut down any overhanging tree branches and pick up loose items before the storm hits Sunday night. Also, be sure to keep your devices charged overnight in case of a power outage.
This is a setup that can produce very high winds, but often fails. A mighty river of air a few thousand feet above the surface is moving from the mid-Atlantic toward New England. Forecasts point to a region of 70 to 80 mph at about 2,500 feet high early Monday, before dawn.
The hard part is knowing if they come to the surface. You would need a very heavy thunderstorm or band of precipitation for this to happen. Thunderstorms are actually not ruled out during the storm, but remain unlikely.
The strongest winds will be around 10 p.m. Sunday to 4 a.m. Monday. Sustained winds will be 35-40 mph on shore, blowing straight from the ocean. Gusts should be in the 50s. Typically, wind problems start with gusts over 45 mph.
Even inland, sustained winds in the 20s during this time, gusting to 40-45 mph, will knock loose objects down.
The winds will change from east to west on Monday, remaining on the stronger side. More wind damage will be possible as trees, bushes, utility poles, etc. that have been used by the easterly winds will not be prepared for turning in the direction of the wind.
Sunday 4 p.m.: is sustained winds 10 mph inland, 15 mph on shore. Gusts 25-35 mph.
Sunday 11 p.m.: Sustained easterly winds 25 mph inland, 40 mph onshore (tropical storm force). Gusts have likely reached the 50s on the shore, but the potential for stronger gusts remains.
Monday 5 a.m.: Southwest winds sustained 20 mph inland, 30 mph on shore. Gusts will likely be in the range of 35-45 mph.
Monday 5 p.m.: West winds 20 mph inland, 25 mph on shore. Gusts will likely be in the 30s.